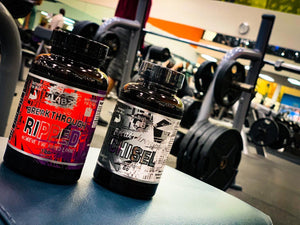 What better product to help you get CHISELED than… Breakthrough CHISEL
Build strength and lean muscle while accelerating fat loss!

Breakthrough CHISEL contains a very strong dose of epiandro – 600mg – a dry compound that helps to increase fat loss while developing a stronger and more chiseled look.
Benefits of Breakthrough CHISEL:
Increases lean muscle and hardness
Accelerates lipolysis (fat loss)
Maintain muscle in a calorie deficit
Improves mood and libido
Breakthrough CHISEL features Enteric Capsule technology, maximizing effectiveness and absorption rates, making CHISEL easy on the stomach, an excellent value, and a very effective product.
Take Breakthrough CHISEL to reach your fitness goals faster. It can be taken by itself, along with a fat burner, such as Breakthrough HEAT or BARRIERS, alongside Breakthrough INCHES (a cortisol reducer and anabolic cutting agent), or alongside Breakthrough GENETIX (recommended to use half of the daily serving of CHISEL in this case), depending on your needs and goals! A PCT, such as Breakthrough BALANCE, is recommended for the following month for men taking Breakthrough CHISEL for 8-12 weeks.
Breakthrough CHISEL…600mg of Epiandro:
Epi-Androsterone (5a-androstan-3b-ol-17-one)
Accelerated fat loss, increased strength, increased lean mass, increased muscle hardness, and improved libido
Epiandrosterone also commonly known as "Epi-Andro" is an anabolic compound which converts into the natural male hormone "DiHydroTestosterone" or "Stanolone". Epi-Andro is non-methylated and as a result will put little to no stress on the user's liver. DHT is 5 times more Androgenic than testosterone. As a dry compound, users will experience lean muscle gains while also increasing lipolysis (fat loss).
Epiandrosterone converts to DHT in the body. DHT is our male sex hormone, so it will cause an increase in strength, and it will help maintain muscle mass. What's more, DHT helps inhibit estrogen conversion in the body, so it will help dry out the user and give the impression of a loss of body fat, since water is shed from within cells. Another secret is its ability to bind to SHBG (sex hormone binding globulin), leading to a greater ratio of free testosterone to total testosterone. In the end of the day, it is this 'free testosterone' that really matters, not the total testosterone. Users get the DHT type results of muscle hardness, some fat loss, water loss, increased lean muscle mass, and an increase in libido.
DHT increases strength which allows the user to lift heavier and harder and can tremendously help maintain muscle while the user is in a caloric deficit.
DHT binds to fat and burns it directly and even inhibits the aromatase enzyme, so you get little to no conversion of your testosterone to estrogen. As a result, it allows you to burn even more body fat while decreasing your risk of shutdown from elevated estrogen.
DHT suppresses SHBG which results in less circulating estrogen and a serious increase in free testosterone levels. (SHBG [Sex Hormone-Binding Globulin] is a protein that is produced by the liver and binds to testosterone, dihydrotestosterone (DHT), and estradiol (an estrogen) and in this bound state, transports these hormones in the blood as a biologically inactive form).
Estrogen is not an issue when using Epiandrosterone. Consequently, the user does not have to worry about water retention and the domino effect of side effects that accompany it. Furthermore, they also do not have to worry about gynecomastia, as it is not possible to have any estrogen aromatization with epi-andro.
Enteric Capsule Technology: Increased Absorption
This delivery system is known as an enteric coating. This is usually only used with advanced pharmaceutical products.
The enteric coating that we use contains a pH sensitive polymer, which means that it remains intact in the acidic environment of the stomach (pH 1.5 - 3.5), protecting the contents of the tablet.
After passing through the stomach the coating then disintegrates in the small intestine (duodenum) which has an alkaline environment (pH 6.5 - 7.6).
The enteric coating is inert and simply passes through your system without any effect at all. The coating we use is manufactured by Colorcon, a world leader in the development and manufacturing of delayed and immediate release coatings for both pharmaceutical and dietary supplement products. This coating has been thoroughly proven for both safety and efficacy.
Apart from the protection that this system provides for those ingredients in our enteric coated products which could be damaged by stomach acid, it also prevents any irritation of the gastric mucosa in the stomach, which is common with many supplements and drugs.
What are the Benefits of Enteric Coated Capsules?
For some formulations, Enteric Coated Capsules are an ideal choice. This is because they:
Overwhelmingly increase absorption rates - The absorption of high quality supplements can increase from as low as 10% (depending on the individual) to 80% or more.
Will not dissolve in the mouth – Enteric Coated Capsules are perfect for drugs that are acid-activated, as they prevent the drug from activating in the mouth or esophagus.
Will not irritate the stomach – Many drugs, such as aspirin, can irritate the stomach. Because they pass through the stomach intact, Enteric Coated Capsules avoid this problem.
Can preserve enzyme activity – Most tablets break down in the highly acidic environment of the stomach. Unfortunately, depending on the product's formulation, this acidic environment can also negatively impact the desired enzyme activity. Enteric Coated Capsules protect the enzymes so that they can be absorbed, at their highest activity levels, in the small intestine.
Take longer to dissolve – While most capsules dissolve within 15 minutes, Enteric Coated Capsules do not dissolve until approximately one to two hours after ingestion, when they reach the small intestine. These capsules can therefore provide a "timed-release" affect.
Although enteric coating is a common technology employed with expensive pharmaceutical medications, it is rarely seen in the nutritional supplement industry!

That's because most supplements are manufactured to a price rather than from a 'best science' perspective. Pharmaceuticals always work because they must be based on 'best science' since FDA regulations require proof that they work.

The manufacturer of Xtend-Life claims over 80% absorption of ingredients when using enteric coated capsules. An extremely high level for a nutritional or dietary supplement.

Some experts believe that (in non-enteric coated products) the bioavailability of vitamins (i.e. all the contents) is only 10-15% due to damage from gastric juices and enzymes in the stomach. This is a gray area however as there is little conclusive research available dealing with absorption rates since so many individual factors come into play from person to person.
SUGGESTED USE:
As a dietary supplement, take one (1) capsule twice per day, ideally timing one dose one hour prior to working out. Take daily for up to 12 consecutive weeks, followed by 4 weeks of Breakthrough BALANCE. DO NOT EXCEED 2 capsules in a 24 hour period.
WARNING:
Consult with your physician before using this product. Do not take this supplement if you have any pre-existing medical conditions. This product should not be used by anyone under the age of 18. Athletes, check with your testing organization before using. User assumes all risks and liabilities related to use of this product. Keep out of the reach of children. Keep in a cool, dry place.
---