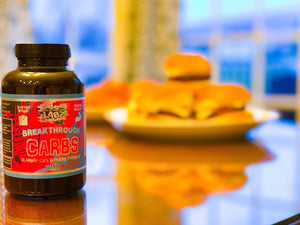 Unlock the benefits of insulin and exercise ALL DAY LONG to build muscle and burn fat!
OPTIMIZE INTAKE OF CARBS INTO MUSCLE WHILE BLOCKING GLUCOSE UPTAKE IN FAT CELLS
Breakthrough CARBS will accelerate results by giving you the maximum benefit from the nutrients you're getting from you diet. It'll effectively mimic insulin's property of stimulating muscle cells to soak up glucose. In addition, CARBS will prevent glucose from being stored in fat cells. Carbohydrates are optimized by entering directly into your muscle cells, resulting in muscle growth, weight loss, and killer pumps in the gym.
Benefits of Breakthrough CARBS:
1.Optimizes carbohydrate intake
2.Increases insulin sensitivity
3.Safely doesn't affect insulin levels
4.Eat more carbs & stay leaner
Not only will Breakthrough CARBS shorten the time it will take to reach your goals, it will also increase your pump in the gym by allowing your muscles to hold more glucose and nutrients. Improved blood lipids, increased energy, and anti-inflammatory properties are also added bonuses!
Take 5 capsules of Breakthrough CARBS 15-20 minutes before your largest carbohydrate meal of the day to see it's nutrient shuttling effects! Just make sure not to take MIMIC and then not eat afterwards, or else you may feel fatigued since your body will take all of the nutrients your body is digesting, and it'll soak them up in your muscles, leaving your glycogen stores depleted and you without energy.
CARBS may also be taken by taking smaller doses (2 or 3 capsules) before your 2 largest carbohydrate meals of the day. Just remember not to exceed 5 capsules per day.
Take CARBS for at least 30-60 days to see its full benefit, as some of the ingredients need to be taken on a consistent basis to work effectively.
The Ingredient Breakdown
10:1 Gymnema Leaf Extract (Gemnemia Sylvestre) 1,000mg
Gymnema contains substances that decrease the absorption of sugar from the intestine. Gymnema may also increase the amount of insulin in the body and increase the growth of cells in the pancreas, which is the place in the body where insulin is made.
Benefits of Gymnema Sylvestre:
1.Reduces Sugar Cravings by Making Sweet Foods Taste Less Appealing: Gymnemic acids in Gymnema sylvestre can block the sugar receptors on your tongue, decreasing your ability to taste sweetness. This can lead to reduced sugar cravings.
2.Helps Lower Blood Sugar by Decreasing Glucose Absorption: Gymnema sylvestre has anti-diabetic properties and can block sugar receptors in your intestines to decrease glucose absorption and lower your blood sugar after a meal.
3.May Contribute to Favorable Insulin Levels by Increasing Insulin Production: Gymnema sylvestre appears to contribute to favorable insulin levels by increasing insulin production and regenerating insulin-secreting islet cells. Both can help lower blood sugar levels.
4.Improves Cholesterol and Triglyceride Levels, Reducing Heart Disease Risk: Research supports that Gymnema can play a role in lowering "bad" LDL cholesterol and triglyceride levels, which can decrease your risk of heart disease.
5.Aids Weight Loss by Blocking Sugar Absorption: Gymnema sylvestre may play a role in weight loss and prevent weight gain. Its ability to block sugar absorption can lead to a reduced calorie intake.
6.Helps Reduce Inflammation Due to Its Tannin and Saponin Content: The tannins and saponins in Gymnema have anti-inflammatory properties that help fight inflammation. Its ability to block sugar absorption also contributes to this effect.
Bitter Melon 750mg
Bitter melon is a vegetable used in India and other Asian countries. The fruit and seeds are used to make medicine. Bitter melon contains a chemical that acts like insulin to help reduce blood sugar levels.
Benefits of Bitter Melon:
1.Diabetes Treatment And Blood Sugar Management: Momordica charantia is used primarily as an alternative therapy for lowering blood sugar levels in patients with type 2 diabetes mellitus. Considerably it is the most potent and popular fruit in terms of managing diabetes through alternative medicine.
2.Immunity Enhancer: Adding bitter melon fruit or juice to your diet helps you recover from common illnesses much quicker and decreases your susceptibility to infections. Bitter melon is abundant in antioxidants that constitute an impregnable line of defense against viruses.
3.Hemorrhoid Relief: Bitter melon contains anit-inflammatory properties beneficial to individuals who have a condition called piles, or most commonly known as hemorrhoids.
4.Sharper Vision: Bitter melon notably contains eye-health improving flavonoids such as α-carotene, β-carotene, lutein, and zeaxanthin.
5.Asthma Relief: Bitter melon can help reduce symptoms brought on by certain respiratory conditions such as asthma, bronchitis, and hay fever.
6.Bitter Melon Consumption Can Help To Address Skin Conditions: Ayurvedic and traditional Chinese medicine has been using bitter melon as treatment for skin conditions for centuries.
7.Inhibits Cancer Cell Proliferation: Free radicals seek out and destroy healthy cells, which accelerate aging and lead to numerous complications including cancer.
8.Help Treat HIV and Herpes: A laboratory test, published in the Journal of Naturopathic Medicine, suggests that the phytochemical composition of bitter melon inhibits the activity of the human immunodeficiency virus.
9.Reduce Cholesterol Levels: Bitter melon is also widely consumed to help lower bad cholesterol levels, which in turn prevents atherosclerotic plaque buildup in arterial walls.
10.Promotes Bone Health and Fast Wound Healing: It is also rich in Vitamin K, an essential nutrient that plays a key role in regulating normal blood clotting.
11.Promotes Good Digestion and Weight Loss: Its significant levels of charantin help increase your glucose uptake and glycogen synthesis, which in turn help you lose excess weight by decreasing storage in fat cells.
25:1 Cinnamon Bark Extract (Cinnamomum Cassia)(30% Polyphenols) 750mg
Ceylon cinnamon comes from a tree called Cinnamomum verum. People use the bark to make medicine.

Ceylon cinnamon is taken by mouth for gastrointestinal (GI) upset, diarrhea, gas, and irritable bowel syndrome. It is also used for stimulating appetite, for hayfever (allergic rhinitis), for infections caused by bacteria and parasitic worms, for yeast infections inside the mouth (thrush), for menstrual cramps, weight loss, the common cold, and the flu (influenza).
The oils found in Ceylon cinnamon are thought to reduce spasms, reduce gas (flatulence), stimulate the appetite, and fight bacteria and fungi. Cinnamon might also decrease blood pressure and blood lipids. Ceylon cinnamon chemicals might work like insulin to lower blood sugar. However, these effects are thought to be fairly weak. (Source: WebMD)
Nutrition: Cinnamon bark is associated with several important nutritional benefits. USDA National Nutrient Database reports that cinnamon is a source of micronutrients such as vitamin K and iron, and also a source of calcium, manganese and dietary fiber. A 1-tablespoon serving of cinnamon contains 1.4 milligrams of manganese, which is almost 75 percent of the recommended daily intake of 2 milligrams. Manganese may help prevent osteoporosis, anemia and symptoms of pre-menstrual syndrome, according to MedlinePlus.com. Cinnamon is naturally low in fat and sugar, and it can add flavor and zest to food without increasing its sugar, fat or calorie content.
Antioxidant Effects: Many of cinnamon bark's nutritional and medicinal benefits relate to its potent antioxidant capacity. Antioxidants are compounds that protect living cells against the damage associated with free radicals -- highly reactive oxygen molecules produced in response to pollution, poor diet, cigarette smoke and stress. One study, published in 2009 in the "Journal of the American College of Nutrition," demonstrated that overweight people experienced less free radical damage while taking cinnamon supplements. By blocking the effects of free radicals, antioxidants such as cinnamon may help to prevent cardiovascular disease and certain forms of cancer.
Diabetes Management: Cinnamon is used in naturopathy to treat type 2 diabetes, a potentially serious medical condition which can cause dangerously high levels of glucose, or sugar, in the bloodstream. In a 2003 edition of "Diabetes Care," the American Diabetes Association published the findings of a small-scale study, which determined that daily doses of 1 to 6 grams of cinnamon can help to reduce blood glucose levels. These findings were encouraging but inconclusive; more clinical trials are needed to prove cinnamon's efficacy as an alternative or complementary treatment for diabetes.
Cholesterol Reduction: The American Diabetes Association says that diabetic patients taking cinnamon experienced reductions in cholesterol and triglyceride levels, while those taking a placebo did not experience these effects. The same study in "Diabetes Care" that showed cinnamon's effects on blood sugar, showed that cinnamon use also reduced triglycerides by 30 percent, LDL or bad cholesterol by 27 percent and total cholesterol by 26 percent. The study did not show a change in HDL or good cholesterol.
Chromium Picolinate 500mg
Chromium is taken by mouth for improving blood sugar control in people with prediabetes, type 1 and type 2 diabetes, and high blood sugar due to taking steroids and HIV treatments.

It is also taken by mouth for depression, Turner's syndrome, polycystic ovary syndrome (PCOS), lowering "bad" cholesterol, raising "good" cholesterol in people taking heart medications called beta blockers, obesity, metabolic syndrome, heart attack, schizophrenia, bipolar disorder, binge eating disorder, and a disease called reactive hypoglycemia.

Some people take chromium by mouth for body conditioning including weight loss, increasing muscle, and decreasing body fat. Chromium is also taken by mouth to improve athletic performance, to increase energy, and to prevent age-related mental decline.

Chromium is used intravenously (by IV) as a supplement in nutritional IV drips.
Chromium might help keep blood sugar levels normal by improving the way our bodies use insulin.
Berberine 450mg
A compound called berberine is one of the most effective natural supplements available.
It has very impressive health benefits and affects your body at the molecular level.
Berberine has been shown to lower blood sugar, cause weight loss and improve heart health, to name a few.
It is one of the few supplements shown to be as effective as a pharmaceutical drug.
This is a detailed review of berberine and its health effects.
Berberine has now been tested in hundreds of different studies.
It has been shown to have powerful effects on many different biological systems.
After you ingest berberine, it gets taken in by the body and transported into the bloodstream. Then it travels into the body's cells.
Inside the cells, it binds to several different "molecular targets" and changes their function. This is similar to how pharmaceutical drugs work.
I am not going to get into much detail here, because the biological mechanisms are complicated and diverse.
However, one of the main actions of berberine is to activate an enzyme inside cells called AMP-activated protein kinase (AMPK).
This enzyme is sometimes referred to as a "metabolic master switch".
It is found in the cells of various organs, including the brain, muscle, kidney, heart and liver. This enzyme plays a major role in regulating metabolism.
Berberine also affects various other molecules inside cells and may even affect which genes are turned on or off.
Type 2 diabetes is a serious disease that has become incredibly common in recent decades, causing millions of deaths every year.
It is characterized by elevated blood sugar (glucose) levels, either caused by insulin resistance or lack of insulin.
Over time, high blood sugar levels can damage the body's tissues and organs, leading to various health problems and a shortened lifespan.
Many studies show that berberine can significantly reduce blood sugar levels in individuals with type 2 diabetes.
In fact, its effectiveness is comparable to the popular diabetes drug metformin (Glucophage).
It seems to work via multiple different mechanisms:
Decreases insulin resistance, making the blood sugar lowering hormone insulin more effective.
Increases glycolysis, helping the body break down sugars inside cells.
Decrease sugar production in the liver.
Slows the breakdown of carbohydrates in the gut.
Increases the number of beneficial bacteria in the gut.
In one study of 116 diabetic patients, 1 gram of berberine per day lowered fasting blood sugar by 20%, from 7.0 to 5.6 mmol/L (126 to 101 mg/dL), or from diabetic to normal levels.
It also lowered hemoglobin A1c by 12% (a marker for long-term blood sugar levels), and also improved blood lipids like cholesterol and triglycerides.
According to a big review of 14 studies, berberine is as effective as oral diabetes drugs, including metformin, glipizide and rosiglitazone.
It works very well with lifestyle modifications, and also has additive effects when administered with other blood sugar lowering drugs.
If you look at discussions online, you often see people with sky-high blood sugars literally normalizing them just by taking this supplement.
This stuff really works, in both the studies and the real world.
R-Alpha Lipoic Acid 250mg
Given the rising epidemic of diabetes and its devastating complications, natural strategies that support healthy blood sugar (glucose) and protect against oxidative stress offer hope for many individuals.
Metabolic syndrome—a combination of risk factors such as insulin resistance, high blood pressure, high triglycerides, and low high-density lipoprotein (HDL)—increases one's risk for diabetes and cardiovascular disease.
Widely known as a potent and effective antioxidant, lipoic acid demonstrates a multitude of unique properties.
Regulated as a drug in several European countries (where it is approved for the treatment of diabetes-related complications, certain complications of alcoholism, and a variety of liver conditions), lipoic acid is an important component of every informed individual's health maintenance regime.
In emerging research, lipoic acid has shown impressive benefits in the context of glaucoma, migraine, stroke, as well as bone health.
Overwhelming evidence now suggests that lipoic acid may be critical for not only maintaining optimal blood sugar levels by helping the body to use glucose, but also for supporting insulin sensitivity and key aspects of cardiovascular health, such as endothelial function.
According to a just-released review of experimental studies, lipoic acid can help relieve several components of metabolic syndrome—a constellation of risk factors that often precedes full-blown types 2 diabetes. This review revealed that lipoic acid reduces blood pressure and insulin resistance, improves the lipid profile, and reduces weight. Scientists are encouraged by lipoic acid's potential as a therapeutic agent for individuals with metabolic syndrome.
Furthermore, another recent study of 36 patients with coronary artery disease found that a combination of lipoic acid with acetyl-L-carnitine reduced blood pressure and improved endothelial function of the brachial artery. This nutrient pair may therefore be an effective strategy for supporting healthy blood pressure levels, particularly in the context of metabolic syndrome.
Just last year, investigators revealed dramatic effects of administering lipoic acid in improving insulin sensitivity in overweight adults suffering from type 2 diabetes. Lipoic acid produced significant improvements in a very short time frame—only four weeks of supplementation. This finding could have important implications, as insulin resistance lies at the heart of type 2 diabetes.
Even after complications of diabetes have manifested, lipoic acid offers help. It has been found effective in the treatment of diabetic neuropathy, a type of nerve damage that occurs as a result of the toxic effects of high glucose levels on the nervous system in diabetes. Diabetic neuropathy is characterized by numbness, tingling, and pain best described as "burning" in the extremities.
A large, randomized, placebo-controlled, multicenter, double-blind study involving 328 patients with type 2 diabetes revealed that lipoic acid significantly improved symptoms of diabetic neuropathy, including sensations of burning, tingling, itching, and pain. Although this early study was carried out using intravenous infusions of lipoic acid, later research has shown oral lipoic acid supplements to also be effective. Just five weeks of oral supplementation with lipoic acid significantly improved the stabbing pain, burning pain, and numbness of the feet in patients suffering from diabetic neuropathy.
Banaba Leaf Extract 250mg
Lagerstroemia is the species of plant commonly known as Banaba. It is a herb with a blend of compounds that, holistically, seem to be catered towards being anti-diabetic in nature.
It can inhibit uptake (digestion and absorption) of carbohydrates to a degree and can also aid in their deposition into cells from the blood stream (resulting in a reduction in blood sugar).
Banaba is an herbal remedy extracted from the leaves of Lagerstroemia speciosa, a tree native to Southeast Asia. Long used in folk medicine, banaba is available in supplement form. Proponents claim that banaba can promote weight loss and treat a wide range of health problems.
Rich in corosolic acid (a substance found to possess blood-sugar-lowering, antioxidant, and anti-inflammatory properties), banaba also contains ellagitannins, a class of compounds with antioxidant effects.
Banaba is touted as a natural remedy for the following conditions:
Diabetes
High blood pressure
High cholesterol
Kidney disease
Metabolic syndrome
Urinary tract infections
In addition, banaba is often marketed as a natural weight loss aid. Some proponents also suggest that banana can aid in detox and enhance liver health.
According to a 2015 report published in Frontiers in Bioscience, banaba and other natural supplements (including cinnamon, biotin, fenugreek, ginseng, and alpha-lipoic acid) "have to potential to reduce the risk for type 2 diabetes in the large at-risk population." The report also indicates these natural supplements may help with glycemic control, long-term prognosis, and/or reduce the need for insulin therapy when used as an adjunct to standard care in the treatment of diabetes.
Findings from laboratory studies and animal-based research suggest that banaba may help control diabetes. In a study published in Diabetes Research and Clinical Practice, researchers evaluated the effect of the banaba compound corosolic acid and found that those who had ingested corosolic acid had lower blood glucose levels 90 minutes later, according to an oral glucose tolerance test.
In a study published in Phytotherapy Research in 2014, researchers assessed the effectiveness of a blend of plant extracts (including banaba) on weight loss. After the 12-week treatment period, those taking the extract blend had lost significantly more weight and body fat mass compared to those taking a placebo. There was also a greater reduction in waist and hip circumference.
Sodium R-Lipoate 150mg
Through dedicated research and development, a newer form of R-lipoic acid has been discovered and is being seen as the "next-generation" antioxidant powerhouse. R-lipoic acid already has demonstrated superior bioavailability, stability, and potency for a variety of health benefits.
But a breakthrough process converts the biologically active "R" form of lipoic acid to sodium-R-lipoate, which, in a recent human study achieved higher peak blood levels than pure R-lipoic acid.12
Not only does this newer lipoic acid formulation reach higher peak blood levels,13 it also achieves them sooner, ensuring rapid uptake from the plasma into the tissues.12 A study showed that oral ingestion of Super R-Lipoic Acid, after converting to sodium-R-lipoate, reached peak plasma concentrations within just 10–20 minutes of supplementation.13
Unlike other forms of lipoic acid, Super R-Lipoic Acid is more stable in the body. The increased stability of this enhanced formulation is the reason for its greater absorption and bioavailability compared with R-lipoic acid.
The superior antioxidant effects of R-lipoic acid are already well-known for supporting healthy mitochondrial function. Now, Super R-Lipoic Acid provides even more potent benefits for preserving youthful cellular energy levels.
Pterostilbene 75mg
Pterostilbene is a methylated stilbene molecule with structural similarity to resveratrol, the only difference being two methoxy groups on the pterostilbene molecule that replace hydroxy groups on the resveratrol molecule. While most of the actions of the two are comparable, pterostilbene appears to be much more well absorbed following oral ingestion and may be a more potent antioxidant and anticancer molecule.
Low doses of pterostilbene (for a human, 10mg or less usually) seem to hold some benefit for cognition and are thought to be one of the bioactive components of blueberries (alongside the anthocyanin content). Higher doses may not have said neurological effects, but higher supplemental dosages of pterostilbene (in the 250-500mg range usually) seem to have benefit for reducing cholesterol and glucose in research animals. The reduction in blood glucose and improvement in insulin sensitivity is quite potent, with a few studies noting that it is comparable to metformin as the reference drug.
In contrast to the aforementioned potencies of pterostilbene, it appears to be a relatively lacklustre antiinflammatory agent. Furthermore, while it seems more potent than resveratrol on a few parameters (antioxidative and its absorption rates) a highly extensive comparison has not been conducted; while saying pterostilbene is a 'more potent resveratrol' is not completely inaccurate, it may not apply to everything resveratrol can do.
Sodium Caprate 50mg
Sodium is a type of metal that is very reactive. Since it's so reactive, sodium is never found in free form in nature. Instead, sodium is always found as a salt. The most common dietary form of sodium is sodium chloride. Sodium chloride is commonly referred to as table salt.

People take sodium by mouth in the form of sodium chloride for low sodium levels, to prevent kidney toxicity caused by the drug amphotericin B, and to prevent kidney toxicity caused by contrast agents used to image parts of the body.

People apply sodium in the form of sodium chloride solution (called saline) for pinkeye (conjunctivitis), dry eye syndrome, mouth sores, nasal congestion, sore throat, and sinusitis.

People inhale sodium in the form of sodium chloride solution for cystic fibrosis.
Inhaling sodium chloride helps produce sputum (phlegm, mucus). This makes it easier for patients with cystic fibrosis to breathe. Sodium also helps the body to balance levels of fluid and electrolytes in the body.
Piperine 10mg
Black Pepper is a spice commonly used in many areas of the world for flavor. Through its active component Piperine, Black Pepper is able to modify supplement and drug metabolism.
A process in the liver called glucuronidation, which attaches a molecule (glucuronide) to drugs to signal for their urinary excretion, is inhibited with piperine. This process prevents excessive levels of drugs and supplements in the body, but sometimes inhibits all uptake and renders some supplements useless. In the scenario of piperine ingestion, excretion of supplements is hindered, and certain drugs and supplements can bypass this regulatory stage (as not all are subject to it).
This is good in some cases, as Piperine is required to give curcumin to the extremities rather than it is getting consumed by glucuronidation in the liver. However, in some other cases it can lead to elevated levels of certain drugs in the blood. Again, elevated could be good or bad depending on context; regardless, caution should be taken when approaching this compound.
Piperine, also known by its trademarked name, BioPerine, is an extract derived from black pepper, Piper Nigrum L, and long pepper, Piper longum L. Piperine is what gives peppers their spicy taste. This extract is marketed as a nutritional supplement and has been found to increase the absorption of a variety of nutrients. Though some of the benefits of piperine have yet to be firmly established, it may also have immune-suppressing, tumor-inhibiting and antidepressant effects. While piperine is probably safe to use, some concerns have been raised regarding its potentially dangerous, enhancing effect on certain drugs. As with starting any new treatments, consult your doctor first.
Absorption of Nutrients:The most established effect of piperine is its effect on absorption of nutrients from the intestine. This effect is known as "bioenhancement." According to an article published in the "Journal of Ayruveda and Integrative Medicine" in 2010, piperine has been shown to increase the absorption of vitamin C, selenium, beta-carotene, vitamin A, vitamin B-6 and coenzyme Q. The article goes on to suggest that piperine may be useful for people who suffer from conditions that cause malabsorption of nutrients and people suffering from malnutrition.
Immunomodulator:While the primary immune system functions to eradicate foreign invaders, it can sometimes malfunction. A variety of diseases are caused by a faulty immune reaction. Piperine has been shown to decrease the activity of this inflammatory response. The findings from a study published in the "European Journal of Pharmacology" in 2010 suggest that piperine may decrease the communication of lymphocytes in the immune system, thereby slowing down their action. Piperine has been shown to be beneficial in gout, a disease characterized by a strong immune response against uric acid crystals. A study published in "Inflammation" in 2011 provided evidence that piperine blocked uric acid crystals from forming and that it could be used as a treatment for gout.
Anti-Tumor Effect: Some evidence suggests that piperine may have some anti-cancer properties. A publication in "Clinical Laboratory Science" in 2008, for example, suggests that piperine inhibits the growth of colon cancers cells grown in a lab. The exact mechanisms by which the supplement prevents cancer are unknown, however, and whether this anti-cancer effect is effective outside of the laboratory remains to be proven.
Antidepressant: Piperine may have some antidepressant activity as well, though this has not yet been firmly established. A trial of piperine on rats found that the animals provided evidence that the supplement had antidepressant and cognitive-enhancing effects. These findings were published in "Food and Chemical Toxicology" in 2008. Another study published in "Pharmacology, Biochemistry and Behavior" in 2009 found that piperine increased the neurotransmission of serotonin and dopamine, two chemicals that are often deficient in depressed individuals. Clinical trials testing the supplement are needed to verify whether these benefits transfer to people.
Enteric Capsule Technology: Increased Absorption
This delivery system is known as an enteric coating. This is usually only used with advanced pharmaceutical products.
The enteric coating that we use contains a pH sensitive polymer, which means that it remains intact in the acidic environment of the stomach (pH 1.5 - 3.5), protecting the contents of the tablet.
After passing through the stomach the coating then disintegrates in the small intestine (duodenum) which has an alkaline environment (pH 6.5 - 7.6).
The enteric coating is inert and simply passes through your system without any effect at all. The coating we use is manufactured by Colorcon, a world leader in the development and manufacturing of delayed and immediate release coatings for both pharmaceutical and dietary supplement products. This coating has been thoroughly proven for both safety and efficacy.
Apart from the protection that this system provides for those ingredients in our enteric coated products which could be damaged by stomach acid, it also prevents any irritation of the gastric mucosa in the stomach, which is common with many supplements and drugs.
What are the Benefits of Enteric Coated Capsules?
For some formulations, Enteric Coated Capsules are an ideal choice. This is because they:
Overwhelmingly increase absorption rates - The absorption of high quality supplements can increase from as low as 10% (depending on the individual) to 80% or more.
Will not dissolve in the mouth – Enteric Coated Capsules are perfect for drugs that are acid-activated, as they prevent the drug from activating in the mouth or esophagus.
Will not irritate the stomach – Many drugs, such as aspirin, can irritate the stomach. Because they pass through the stomach intact, Enteric Coated Capsules avoid this problem.
Can preserve enzyme activity – Most tablets break down in the highly acidic environment of the stomach. Unfortunately, depending on the product's formulation, this acidic environment can also negatively impact the desired enzyme activity. Enteric Coated Capsules protect the enzymes so that they can be absorbed, at their highest activity levels, in the small intestine.
Take longer to dissolve – While most capsules dissolve within 15 minutes, Enteric Coated Capsules do not dissolve until approximately one to two hours after ingestion, when they reach the small intestine. These capsules can therefore provide a "timed-release" affect.
Although enteric coating is a common technology employed with expensive pharmaceutical medications, it is rarely seen in the nutritional supplement industry!

That's because most supplements are manufactured to a price rather than from a 'best science' perspective. Pharmaceuticals always work because they must be based on 'best science' since FDA regulations require proof that they work.

The manufacturer of Xtend-Life claims over 80% absorption of ingredients when using enteric coated capsules. An extremely high level for a nutritional or dietary supplement.

Some experts believe that (in non-enteric coated products) the bioavailability of vitamins (i.e. all the contents) is only 10-15% due to damage from gastric juices and enzymes in the stomach. This is a gray area however as there is little conclusive research available dealing with absorption rates since so many individual factors come into play from person to person.
SUGGESTED USE:
As a dietary supplement, take five (5) capsules, approximately 15-20 minutes before the largest carb meal of your day. DO NOT EXCEED 5 capsules in a 24-hour period. DO NOT TAKE if unable to eat a carbohydrate enhanced meal following consumption.
WARNING:
For use by healthy adults only, not recommended for persons under the age of 18. Do not use if you are pregnant or nursing. Individuals should not consume other caffeinated products in conjunction with this product. Seek advice from a healthcare professional before taking if you have any preexisting medical condition to ensure it is safe to take this product. In case of accidental overdose, contact a poison control center immediately. Avoid alcohol or prescription stimulants while taking this product. Exceeding recommended serving will not improve results and may cause serious adverse health effects. Discontinue use and contact a licensed healthcare professional immediately if you experience an unusually rapid heartbeat, dizziness, severe headache, or shortness of breath. KEEP OUT OF THE REACH OF CHILDREN.
---