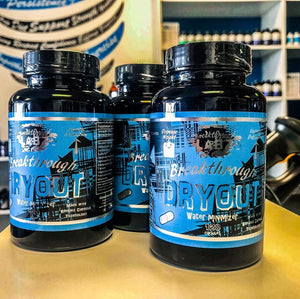 Breakthrough DRYOUT: Minimize Water Retention & Expose Lean Muscle
Look shredded, feel amazing, and plan your vacation with Breakthrough DRYOUT in mind!
Breakthrough DRYOUT was developed to help you look your best when you need it most. Don't plan a vacation without it!
DRYOUT will naturally cause your kidneys to release more sodium into your urine, taking water from your blood, decreasing the amount of fluid flowing through your blood vessels, and consequentially, reducing pressure on your vessel walls. It will drain sodium and water from your body to enhance your appearance, minimize water and bloating, and increase muscle definition.
Benefits of Breakthrough DRYOUT:
Decrease Body Weight
Minimize Water Retention & Bloating
Increase Muscle Definition
Look & Feel Your Best
Utilizing Enteric Coated Capsule Technology, Breakthrough DRYOUT will absorb optimally and give you the maximum effects from this elite diuretic formula.
Breakthrough DRYOUT works by:
Increasing urine flow and output
Replenishing calcium levels
Decreasing swelling and inflammation in tissues
Helping the stool pass through the bowels
Making urine less acidic
Increasing fluid in the small intestine
Take Breakthrough DRYOUT by slowly increasing dosage over 10 days from 2 capsules in the morning and 2 capsules in the afternoon (approximately 8-12 hours apart) up to 4 capsules in the morning and 4 capsules in the afternoon.
Breakthrough DRYOUT Ingredient Profile:
Dandelion 5:1 Extract 500mg
Dandelion is an herb. People use the above ground parts and root to make medicine.
Dandelion is used for many conditions, but so far, there isn't enough scientific evidence to determine whether or not it is effective for any of them.
Dandelion is used for loss of appetite, upset stomach, intestinal gas, gallstones, joint pain, muscle aches, eczema, and bruises. Dandelion is also used to increase urine production and as a laxative to increase bowel movements. It is also used as skintoner, blood tonic, and digestive tonic.
Some people use dandelion to treat infection, especially viral infections, and cancer.
In foods, dandelion is used as salad greens, and in soups, wine, and teas. The roasted root is used as a coffee substitute.
Dandelion contains chemicals that may increase urine production and decrease swelling (inflammation).
Juniperus Communis (berry extract) 475mg
Juniper is a short to medium-height tree that grows wild in some parts of Europe, North America, and Asia. There are many varieties of juniper, but Juniperus communis is the most common in North America.
People use the juniper berry to make medicine. Medicinal preparations include the extract of juniper berry, as well as the essential oil of juniper berry. Don't confuse juniper berry oil with cade oil, which is distilled from juniper wood (Juniperus oxycedrus).
Juniper is used for digestion problems including upset stomach, intestinal gas (flatulence), heartburn, bloating, and loss of appetite, as well as gastrointestinal (GI) infections and intestinal worms. It is also used for urinary tract infections (UTIs) and kidney and bladder stones. Other uses include treating snakebite, diabetes, and cancer.
Some people apply juniper directly to the skin for wounds and for pain in joints and muscles. The essential oil of juniper is inhaled to treat bronchitis and numb pain.
In foods, the juniper berry is often used as a condiment and a flavoring ingredient in gin and bitter preparations. The extract and essential oil are used as a flavoring ingredient in foods and beverages.
In manufacturing, the juniper oil is used as a fragrance in soaps and cosmetics.
Juniper extract and juniper oil are used in cosmetics including lipstick, foundation, hair conditioners, bath oils, bubble bath, eye shadow, and many other products.
Juniper berries contain chemicals that might decrease inflammation and gas. It might also be effective in fighting bacteria and viruses. Juniper might also increase the need to urinate.
Uva Ursi Extract 450mg
Uva ursi is a plant. The leaves are used to make medicine.

Bears are particularly fond of the fruit, which explains its Latin name, "uva ursi," which means "bear's grape." Most authorities refer to Arctostaphylos uva-ursi as uva ursi. However, the related plants, Arctostaphylos adentricha and Arctostaphylos coactylis, have also been termed uva ursi by some experts.

Uva ursi is used primarily for urinary tract disorders, including infections of the kidney, bladder, and urethra; swelling (inflammation) of the urinary tract; increased urination; painful urination; and urine that contains excess uric acid or other acids. Uva ursi is also used for constipation and a lung condition called bronchitis.

Uva ursi, hops, and peppermint are also used in combination to treat people with compulsive bedwetting and painful urination.
Uva ursi can reduce bacteria in the urine. It can also reduce swelling (inflammation) and have a drying (astringent) effect on the tissues.
Buchu Leaf 300mg
Buchu is a plant from South Africa. The leaf is used to make medicine.

Buchu is used for urinary tract infections (UTIs), including infections involving the urethra (urethritis) and kidneys (pyelonephritis). It is also used by mouth for treating inflamed prostate (prostatitis), benign prostatic hyperplasia (BPH), high blood pressure, fever, cough, common cold, upset stomach, stomach ulcers, irritable bowel syndrome (IBS), gout, and sexually transmitted diseases (STDs).

Buchu is applied to the skin as an insect repellant, as a deodorant, and for skin infections.

In manufacturing, the oil from buchu is used to give a fruit flavor (often black currant) to foods. It is also used as a fragrance in perfumes and colognes.

It is thought that the active chemicals in buchu may kill germs and also promote urine flow.
Goldenrod Herb (Solidago odora) 250mg
Goldenrod is an herb. People use the parts that grow above the ground for medicine.
The names "early goldenrod," "European goldenrod," and "Canadian goldenrod" are used interchangeably. Don't confuse this herb with Verbascum densiflorum, which is sometimes called "goldenrod."
Goldenrod is used to reduce pain and swelling (inflammation), as a diuretic to increase urine flow, and to stop muscle spasms. It is also used for gout, joint pain(rheumatism), arthritis, as well as eczema and other skin conditions. Goldenrod is also used to treat tuberculosis infections that have become active again after a period of inactivity (latency), diabetes, enlargement of the liver, hemorrhoids, internal bleeding, hay fever, asthma, and an enlarged prostate.
Some people use goldenrod as "irrigation therapy." This is a procedure that involves taking goldenrod with lots of fluids to increase urine flow in an effort to treat inflammatory diseases of the lower urinary tract, as well as stones in the kidney or urinary tract.
Goldenrod is used as a mouth rinse for inflammation of the mouth and throat, and it is also applied directly to the skin to improve wound healing.
Goldenrod contains chemicals that increase urine flow and have anti-swelling (anti-inflammatory) effects.
Hydrangea Root (Hydrangea arborescens) 250mg
Hydrangea is a plant. The root and rhizome (underground stem) are used to make medicine.
Hydrangea is used for urinary tract problems such as infections of the bladder, urethra and prostate; enlarged prostate; and kidney stones. It is also used for hay fever.
The chemicals in hydrangea may cause increased urine output, which could help some urinary tract problems.
Bladderwrack (Fucus Vesiculosus)(Thallus) 250mg
Bladderwrack is a type of seaweed. People use the whole plant to make medicine.
Bladderwrack is used for thyroid disorders including underactive thyroid(myxedema), over-sized thyroid gland (goiter), and iodine deficiency. It is also used for obesity, arthritis, joint pain, "hardening of the arteries" (arteriosclerosis), digestive disorders, heartburn, "blood cleansing," constipation, bronchitis, emphysema, urinary tract disorders, and anxiety. Other uses include boosting the immune system and increasing energy.
Some people also apply bladderwrack to the skin for skin diseases, burns, aging skin, and insect bites.
Bladderwrack, like many sea plants, contains varying amounts of iodine, which is used to prevent or treat some thyroid disorders. Bladderwrack products may contain varying amounts of iodine, which makes it an inconsistent source of iodine. Bladderwrack also contains algin, which can act as a laxative to help the stool pass through the bowels.
Calcium 200mg
Calcium is a mineral that is an essential part of bones and teeth. The heart, nerves, and blood-clotting systems also need calcium to work.
Calcium is used for treatment and prevention of low calcium levels and resulting bone conditions including osteoporosis (weak bones due to low bone density), rickets (a condition in children involving softening of the bones), and osteomalacia (a softening of bones involving pain). Calcium is also used for premenstrual syndrome (PMS), leg cramps in pregnancy, high blood pressure in pregnancy (pre-eclampsia), and reducing the risk of colon and rectal cancers.
Some people use calcium for complications after intestinal bypass surgery, high blood pressure, high cholesterol, Lyme disease, to reduce high fluoride levels in children, and to reduce high lead levels.
Calcium carbonate is used as an antacid for "heartburn." Calcium carbonate and calcium acetate are also used for reducing phosphate levels in people with kidneydisease.
Calcium-rich foods include milk and dairy products, kale and broccoli, as well as the calcium-enriched citrus juices, mineral water, canned fish with bones, and soy products processed with calcium.
Calcium can interact with many prescription medications, but sometimes the effects can be minimized by taking calcium at a different time. See the section titled "Are there any interactions with medications?"
The bones and teeth contain over 99% of the calcium in the human body. Calcium is also found in the blood, muscles, and other tissue. Calcium in the bones can be used as a reserve that can be released into the body as needed. The concentration of calcium in the body tends to decline as we age because it is released from the body through sweat, skin cells, and waste. In addition, as women age, absorption of calcium tends to decline due to reduced estrogen levels. Calcium absorption can vary depending on race, gender, and age.
Bones are always breaking down and rebuilding, and calcium is needed for this process. Taking extra calcium helps the bones rebuild properly and stay strong.
Magnesium Citrate 100mg
This product is used to clean stool from the intestines before surgery or certain bowel procedures (e.g., colonoscopy, radiography), usually with other products. It may also be used for relief of constipation. However, milder products (e.g., stool softeners, bulk-forming laxatives) should be used whenever possible for constipation.
Magnesium citrate is a saline laxative that is thought to work by increasing fluid in the small intestine. It usually results in a bowel movement within 30 minutes to 3 hours.
Potassium Citrate 100mg
This medication is used to make the urine less acidic. This effect helps the kidneys get rid of uric acid, thereby helping to prevent gout and kidney stones. This medication can also prevent and treat certain metabolic problems (acidosis) caused by kidney disease.
Citric acid and citrate salts (which contain potassium and sodium) belong to a class of drugs known as urinary alkalinizers. If you have a condition that requires you to limit your intake of potassium and sodium, your doctor may direct you to take a product that is lower in potassium and sodium.
Vitamin B6 (Pyridoxine) 50mg
Pyridoxine is a vitamin. It can be found in certain foods such as cereals, beans, vegetables, liver, meat, and eggs. It can also be made in a laboratory.
Pyridoxine is used for preventing and treating low levels of pyridoxine (pyridoxine deficiency) and the "tired blood" (anemia) that may result. It is also used for heart disease; high cholesterol; reducing blood levels of homocysteine, a chemical that might be linked to heart disease; and helping clogged arteries stay open after a balloon procedure to unblock them (angioplasty).
Women use pyridoxine for premenstrual syndrome (PMS) and other menstruation problems, "morning sickness" (nausea and vomiting) in early pregnancy, stopping milk flow after childbirth, depression related to pregnancy or using birth control pills, and symptoms of menopause.
Pyridoxine is also used for Alzheimer's disease, attention deficit-hyperactivity disorder (ADHD), Down syndrome, autism, diabetes and related nerve pain, sickle cell anemia, migraine headaches, asthma, carpal tunnel syndrome, night leg cramps, muscle cramps, arthritis, allergies, acne and various other skin conditions, and infertility. It is also used for dizziness, motion sickness, preventing the eye disease age-related macular degeneration (AMD), seizures, convulsions due to fever, and movement disorders (tardive dyskinesia, hyperkinesis, chorea), as well as for increasing appetite and helping people remember dreams.
Some people use pyridoxine for boosting the immune system, eye infections, bladder infections, and preventing cancer and kidney stones.
Enteric Capsule Technology: Increased Absorption
This delivery system is known as an enteric coating. This is usually only used with advanced pharmaceutical products.
The enteric coating that we use contains a pH sensitive polymer, which means that it remains intact in the acidic environment of the stomach (pH 1.5 - 3.5), protecting the contents of the tablet.
After passing through the stomach the coating then disintegrates in the small intestine (duodenum) which has an alkaline environment (pH 6.5 - 7.6).
The enteric coating is inert and simply passes through your system without any effect at all. The coating we use is manufactured by Colorcon, a world leader in the development and manufacturing of delayed and immediate release coatings for both pharmaceutical and dietary supplement products. This coating has been thoroughly proven for both safety and efficacy.
Apart from the protection that this system provides for those ingredients in our enteric coated products which could be damaged by stomach acid, it also prevents any irritation of the gastric mucosa in the stomach, which is common with many supplements and drugs.
What are the Benefits of Enteric Coated Capsules?
For some formulations, Enteric Coated Capsules are an ideal choice. This is because they:
Overwhelmingly increase absorption rates - The absorption of high quality supplements can increase from as low as 10% (depending on the individual) to 80% or more.
Will not dissolve in the mouth – Enteric Coated Capsules are perfect for drugs that are acid-activated, as they prevent the drug from activating in the mouth or esophagus.
Will not irritate the stomach – Many drugs, such as aspirin, can irritate the stomach. Because they pass through the stomach intact, Enteric Coated Capsules avoid this problem.
Can preserve enzyme activity – Most tablets break down in the highly acidic environment of the stomach. Unfortunately, depending on the product's formulation, this acidic environment can also negatively impact the desired enzyme activity. Enteric Coated Capsules protect the enzymes so that they can be absorbed, at their highest activity levels, in the small intestine.
Take longer to dissolve – While most capsules dissolve within 15 minutes, Enteric Coated Capsules do not dissolve until approximately one to two hours after ingestion, when they reach the small intestine. These capsules can therefore provide a "timed-release" affect.
Although enteric coating is a common technology employed with expensive pharmaceutical medications, it is rarely seen in the nutritional supplement industry!

That's because most supplements are manufactured to a price rather than from a 'best science' perspective. Pharmaceuticals always work because they must be based on 'best science' since FDA regulations require proof that they work.

The manufacturer of Xtend-Life claims over 80% absorption of ingredients when using enteric coated capsules. An extremely high level for a nutritional or dietary supplement.

Some experts believe that (in non-enteric coated products) the bioavailability of vitamins (i.e. all the contents) is only 10-15% due to damage from gastric juices and enzymes in the stomach. This is a gray area however as there is little conclusive research available dealing with absorption rates since so many individual factors come into play from person to person.
SUGGESTED USE:
As a dietary supplement, start by taking two (2) capsules in the morning and two (2) capsules in the afternoon. Over 10 days, slowly increase each dose from two (2) capsules to a maximum of four (4) capsules. DO NOT EXCEED 8 capsules in a 24 hour period.
WARNING:
Consult with your physician before using this product. Do not take this supplement if you have any pre-existing medical conditions. This product should not be used by anyone under the age of 18. Athletes, check with your testing organization before using. User assumes all risks and liabilities related to use of this product. Keep out of the reach of children. Keep in a cool, dry place.
---